Charlotte Motor Speedway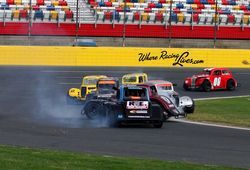 Image courtesy of Charlotte Motor Speedway.
Located just 20 minutes from the Holiday Inn Charlotte Airport hotel, the Charlotte Motor Speedway offers a fast-paced day of fun and excitement for the whole family. Bring the kids, friends and colleagues to see everything from the legendary oldies to beefy NASCARs zoom past. They even offer driving school for those interested!
Tickets and race schedule are available online at the Charlotte Motor Speedway website, and use this MAP powered by Google for directions from the hotel. Come out and see what the buzz is all about!
The Holiday Inn Charlotte Airport hotel is located just one mile from the Charlotte Douglas International Airport and provides an ideal home base for all your Charlotte excursions. Whether traveling for fun or on business, we offer everything you'll need from meeting space and a restaurant to an outdoor seasonal pool, pool tables, and a well-equipped fitness center.